Skip to content
Free shipping on orders over $125!
GOAT MILK SOAP & MORE!
Welcome to Groovy Goat Farm and Soap Company, where we take pride in handcrafting natural and luxurious soap and body products. Our (not so) secret ingredient? Fresh goat milk from the well-loved goats on our small family farm in beautiful Cape Breton, Nova Scotia.
Shop for high-quality goat milk products. Your skin will thank-you!
Free shipping to Canada & USA on orders over $125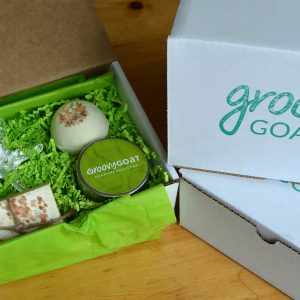 The "Groovy Goody" Club (monthly subscription box)
You can now feel the "goodness of goat" every month by joining The Groovy Goody Club. How does it work? Treat yourself or sign-up a special someone to give a gift that keeps on giving. Each month, we will mail you a beautiful selection of both tried-and-true and brand-new bath and body goodies handcrafted by Groovy Goat. Club members will be the first to sample all of our latest products and scents. Because we love the element of surprise, the contents of each month's box will vary. All products are full-sized (no sample sizes here!). As a bonus, $1 from every subscription box purchased will be donated to a different non-profit organization close to our hearts each month. Join the club!
Subscribe